My boyfriend is from Iran and I feel that this means I should attempt a couple of Persian recipes. When I told him about my intentions he informed me that it would not be as good as his. Because my hobbies include cooking and his hobbies include practicing medicine I feel that I can win this bet pretty easily.
I searched the internet and found a website that made Persian food look appetizing, and most importantly, easy! You can find it here, My Persian Kitchen.
I perused the site for a while and decided that the easiest thing I could make would be tahcheen. This is an easy recipe, but very time consuming. One thing I learned is you can not use too much salt in this... LOTS of salt in the yogurt, chicken and especially rice!
Here it is for your enjoyment:
Ingredients
2 chicken breasts
1 medium onion
2 cloves garlic
2 cups yogurt
2 egg yolks
4 tbsp brewed saffron
3 cups rice
2 tbsp butter
canola oil
salt & pepper
Directions
To start the rice:
Scoop out 3 cups of rice in a bowl.
Wash rice several times until water runs clear.
Soak rice with salt over night.
To make brewed saffron:
Grind a pinch of saffron. (I just used a cup and spoon.)
Place ground saffron in a small bowl and pour hot water over it. Make sure that you always use hot water as it helps release the aroma and works much better than room temperature water.
Stir well. Now you are ready to use the saffron in your recipe as needed.
On to the chicken:
Cut onion in large pieces and crush garlic cloves. (I recently got a mini chopper, it makes crushing garlic AWESOME!)
Place onion and garlic in a pan. Season chicken breasts with salt and pepper and place on top of onion and garlic.
Add 1 cup of water, cover and cook for 20 minutes or until chicken is cooked through. (FYI, the cup of water did NOT cover the chicken, we are not boiling the chicken.)
In the mean time mix yogurt, egg yolks and saffron together. Season with salt and pepper.
After cooking the chicken, shred in chunks with two forks. The pieces should not be too big or too small.
Add chicken to yogurt mix. Cover and refrigerate over night.
Now back to the rice. (This is the next day.)
Bring a pot of water to a boil with a sprinkle of salt. Add rice to water, without the water used for soaking. Keep an eye on it, as soon as the water starts boiling again it should take about 10 minutes for the rice to cook.
While the rice cooks gently scoop the rice from the bottom of the pot and bring to the surface and release. Do this step several times. NOTE: Do not stir.
Place a colander in the sink.
Check the rice to make sure it is cooked. It should be soft and cooked but not mushy. Drain rice in colander.
Rinse with cold water to stop cooking process.
Finally,
Remove chicken from marinade.
Add rice to the remainder of the yogurt and mix well. Season with more salt if needed.
Pour 2-3 tablespoons of oil in the bottom of a pirex dish. Spread the oil all over including the walls of the dish.
Place half of the rice in the dish and make sure that it is all even.
Arrange the chicken on top in a single layer.
Add remainder of the rice on top and flatten the top slightly pressing down with a spatula.
Melt the butter and pour over the rice.
Cover the dish with foil and bake at 350° for 2 1/2 hours.
This is how it turned out!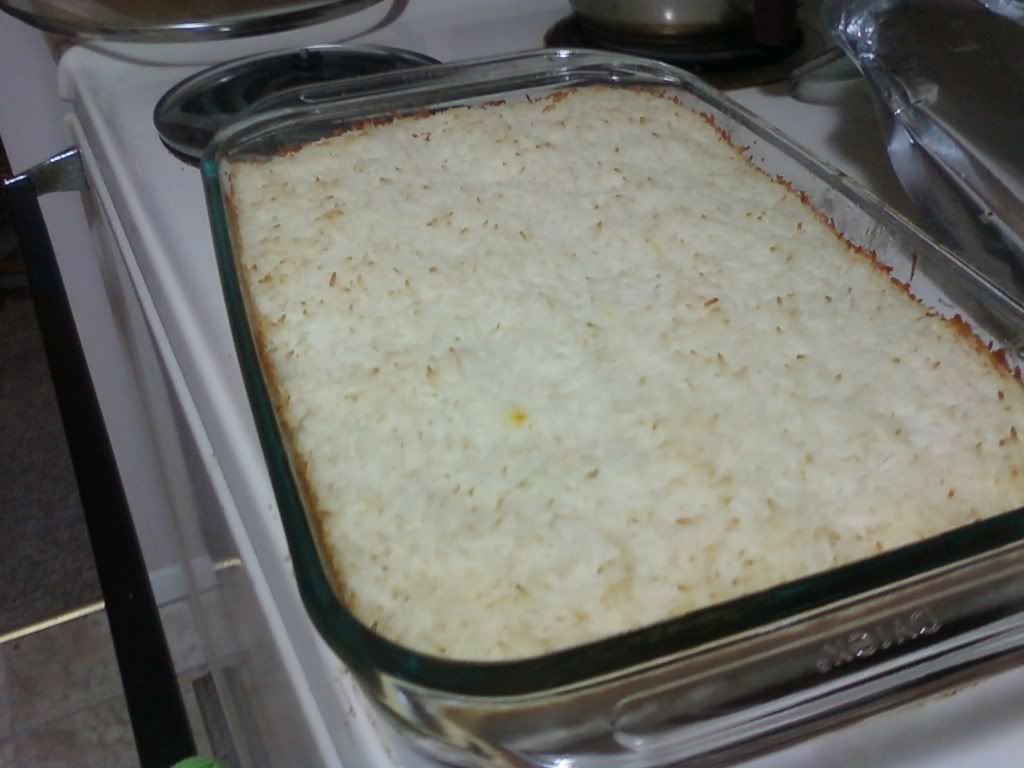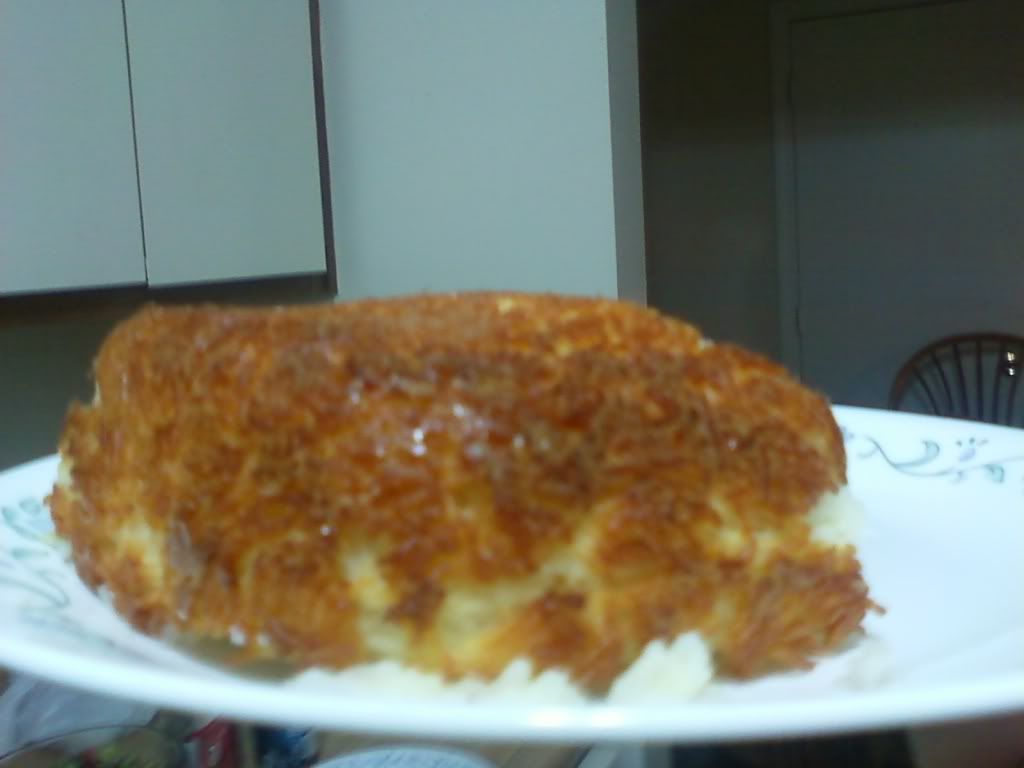 I decided that we also needed some vegetables with our meal, so I made a traditional Persian salad, Salad Shirazi. This is something I have had on a few occasions, but have never made.
Ingredients
1 English cucumbers
3 round tomatoes
1/2 medium red onion
1/4 cup lime juice
1 tbsp dry mint
1 tbsp oil (optional)
salt & pepper
Directions
Dice cucumber, tomato and red onion into pieces roughly the same size. I suggest chopping the tomato last, it gets all slimey and juicy on the cutting board. (FYI, you should have about the same amount of cucumber and tomato and as much onion as possible without overpowering the taste.)
Mix all ingredients and add, while mixing, salt and pepper to taste and mint.
Refrigerate for 20 minutes. (I started the salad after I put the tahcheen in the oven and just stuck it in the fridge when I was done until about an hour before dinner.)
Pour lime juice and olive oil over the salad. Mix well and refrigerate for at least one hour before serving.
YUMMY! (Ok, I am not a huge fan of raw tomato, but this isn't half bad!
Next meal is Moo Shu Pork... look for it in my tummy soon!