I got to cook a little more than usually this week. I do most of my cooking on the weekends. Especially the cooking I want to share with you guys. (Although, if you want to learn to make things like Hamburger Helper feel free to email me! Haha!) Well, this was a long weekend for me, thus, more cooking.
Last night's meal was a really quick meal. I found a recipe in a cookbook, so I took it and made it the way I wanted... so, really, not the same food they wanted me to make at all! I also rearranged the directions so they read in the order I made them. Also, the recipe offered an easy way to make "mock" Mandarin Pancakes, well, ALRIGHT!
Ingredients
1 cup white wine (I used semi sweet)
3 boneless pork loin chops
5 green onions
1 can waterchestnuts
1/2 cup hoison sauce
toasted sesame oil
8oz bag of coleslaw mix
2 eggs
8 flour tortillas (fajita size)
Directions
If your chops are thick, flatten with a mallet. (Pork loin roast was on sale, so I bought one and had my boyfriend slice about 5 very thin steaks for me.) Cut into strips.
Marinade the strips with the wine for at least an hour.
Thinly slice green onions and save about 1/4 cup for garnish.
I bought whole water chestnuts and chopped them in my mini chopper. (I am telling you, if you are going to follow my blog GET ONE!) You could also used sliced water chestnuts and then, just open a can.
Cook pork in skillet until no longer pink.
Mix hoison sauce and 2 tsp sesame oil.
Add green onions, water chestnuts, cole slaw mix, and sauce mix to skillet.
Cook for 2-3 minutes, just to warm the mix, you want it crunchy.
On to the pancakes!
Heat 1 tsp sesame oil in a small skillet.
Beat eggs in a shallow bowl or deep plate.
Dip the tortillas in the egg and place in skillet.
Cook each side about 20-30 seconds, you want the to be a light golden brown.
Add and heat oil as needed to complete all the pancakes.
I had a small amount of eggs left, so, I scrambled it in the pancake skillet and added it to the pork.
Now you are done! Spoon the pork into the pancakes and sprinkle with your green onion mixture.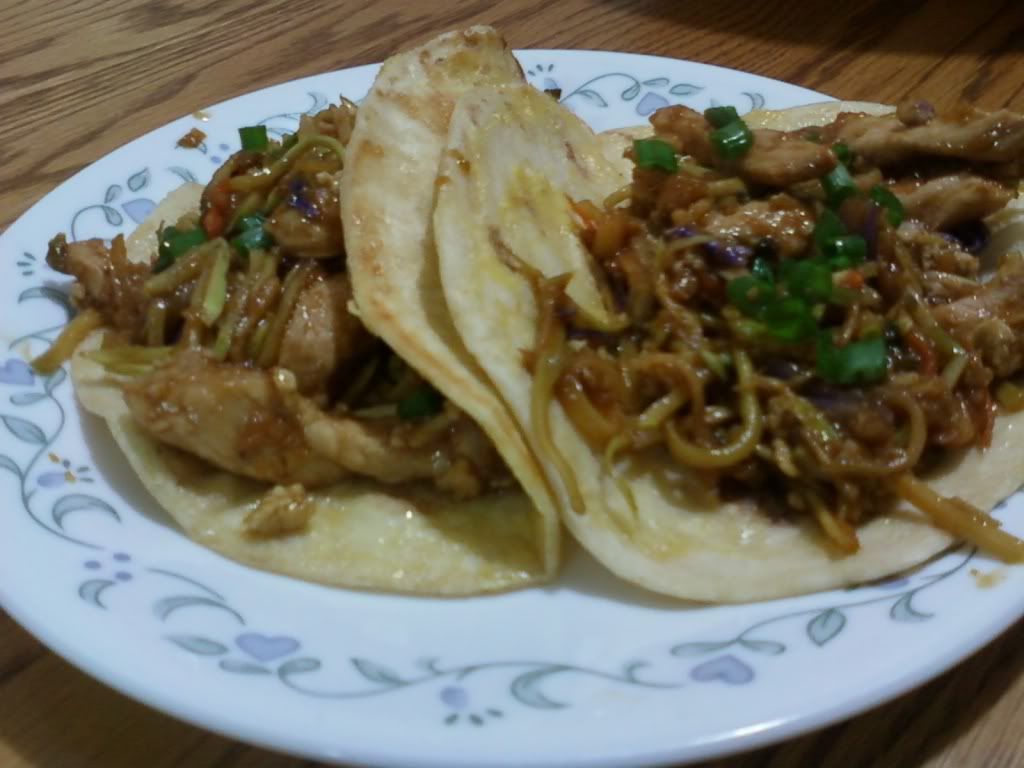 Sooo... tasty!