I am not a fan of breakfast. First off, I don't like greasy food too much and breakfast meats seem to be all grease. Secondly, I can't eat when I first get up, so by the time I am ready to eat I am either at work or it is lunch time. I do make breakfast for others though... and of course I eat it at some point most of the time. Here is a casserole that was pretty good.
Ingredients
3 cups of croutons (pick a flavor that sounds good to you)
1/4 cup butter, melted
2 cups shredded cheddar cheese
6 eggs
1 3/4 cups milk
1 bell pepper, diced (your choice of color)
1 tablespoon mustard
1 tablespoon basil
salt and pepper
breakfast meat can be used, I did not
Directions
If you choose to use meat, you will want to thoroughly cook, and crumble or dice, it.
Preheat 325 degrees F.
Spray a 9 X 13 casserole dish with cooking spray.
Place croutons in the bottom of the dish and drizzle with melted butter.
Sprinkle with shredded cheese.
Crack eggs in a bowl and

add milk, diced bell pepper, mustard, salt, basil and pepper, and beat until well-combined. (At this point add your meat as well.)

Pour on top of the croutons and cheese in the casserole dish.

Bake in the preheated oven for 40 minutes.

Let stand for 10 minutes before serving.
Not bad!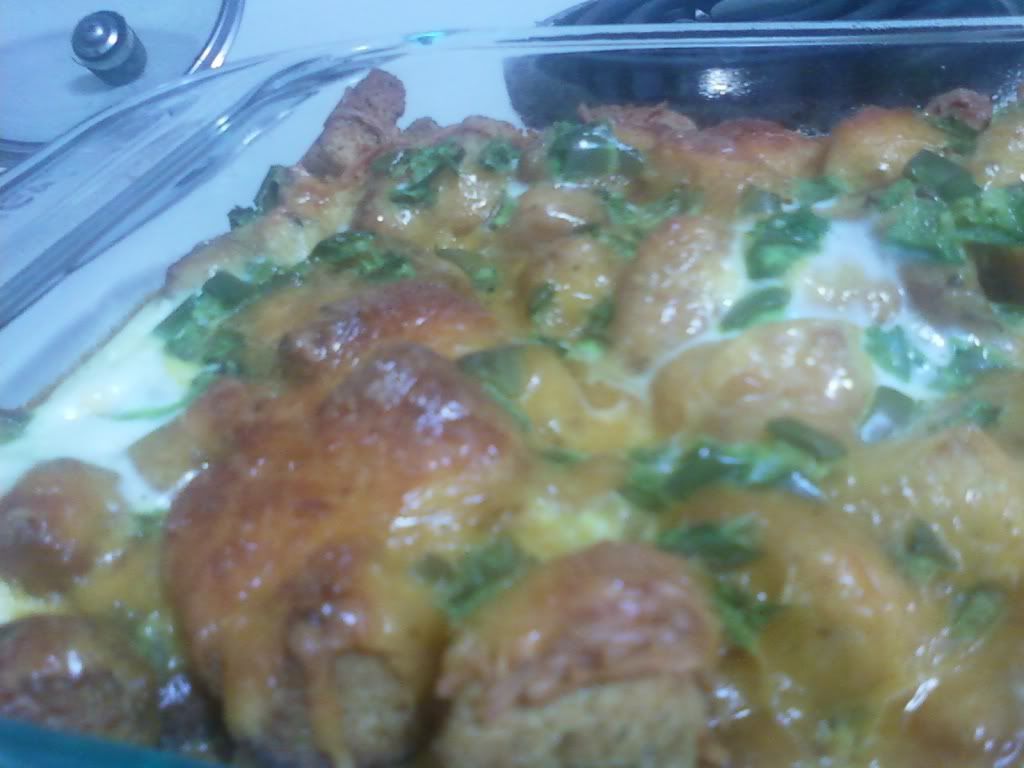 This recipe is pretty versatile. You could add any chopped vegetables you wanted, as well as any meat. You can also change up the flavor of your croutons and cheese. This could easily become garlic flavored croutons with mozzarella cheese and some Italian seasoning in your eggs, Caesar croutons with Parmesan cheese and a bit of Worcestershire Sauce, or omit the cheese add bacon or ham and make some hollandaise sauce to pour over, an Eggs Benedict casserole. This is a great recipe to use your imagination!